Idem is an art print shop in the Montparnasse district of Paris. It is a meeting point for great French and international artists who collaborate with Idem to create editions. A place of inspiration and creation in a vast 1,400 m2 workshop under glass roof. An exceptional stock of several tons of lithographic stones of all sizes is available to artists. Idem works in a collaborative approach with the artist to develop their images. The printers guide the artist through unusual territories, introducing him to a multitude of possibilities, suggesting innovative and experimental techniques. The work printed by Idem is present in museum collections, international exhibitions and private and public collections.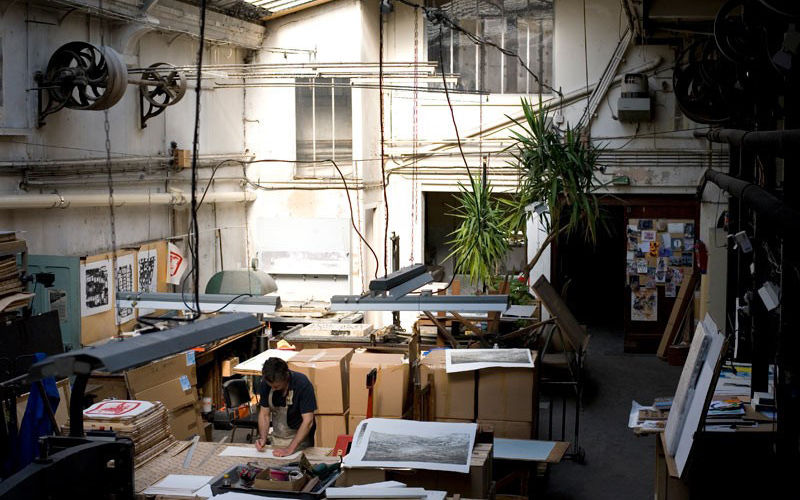 Located at the heart of the Montparnasse district, the Atelier was built in 1881 by the map printer Emile Dufrenoy who ran the studio until the World War II. This place hosts the lithographic presses of Fernand Mourlot who worked with Matisse, Picasso, Miro, Chagall, Braque, Giacometti and the major artists of the XXth century.
A new generation of contemporary artists such as Jean-Michel Alberola, Sophie Calle, JR, Izumi Kato, William Kentridge, David Lynch, Paul McCarthy and Raymond Pettibon still create here nowadays.
This 1.400m2 space under a glass roof shelters is still a place where people meet and exchange stories.
Technical
Artists can come directly to the studio to draw themselves and we can also print from digital files. Idem is open to any proposal for experimentation.
Printing

Lithography, etymologically "drawing on stone", is a flat printing technique that allows the creation and reproduction in multiple copies of a drawing executed in ink or pencil on a limestone. The technique is based on the physical phenomenon of the repulsion of water for grease and vice versa.

Equipment

3 hand presses
6 Voirin and Marinoni lithographic presses
Exceptional stock of several tons of lithographic stones of all sizes

Paper

Paper is one of the most important elements in printing. The choice of the artist is crucial for the desired final effect. We can print on paper such as Japan, Arches, Rives, etc… in a maximum format of 80×120 cm.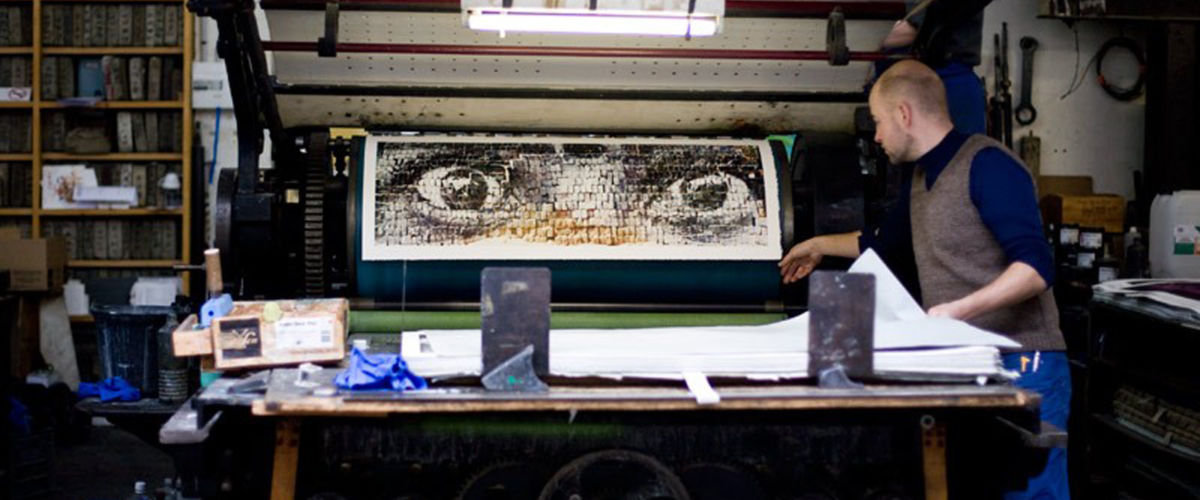 Team
Patrice Forest

Director

Erwann Galivel

Printer

Martin Giffard

Printer

Victor Mafra Pereira

Printer

Dragana Miladinovic

Printer

Vincent Fardoux

Pixelprofiler

Caroline Humbert

Workshop coordinator